After 2020 forced many to shift their marketing efforts, many decided to replace in-person marketing such as events for online webinars and videos. Because of this video saw a massive uptake with many trying to maintain a visual presence.
61% of marketers plan to increase their video spending in 2021. (Postclick)
With video set to increase, it's important to ensure your business has the right equipment to create quality content.
Unlike before, this doesnt mean a massive investment. As video equipment is now more affordable than ever! 
Here's a list of things your business will need to create a basic video kit.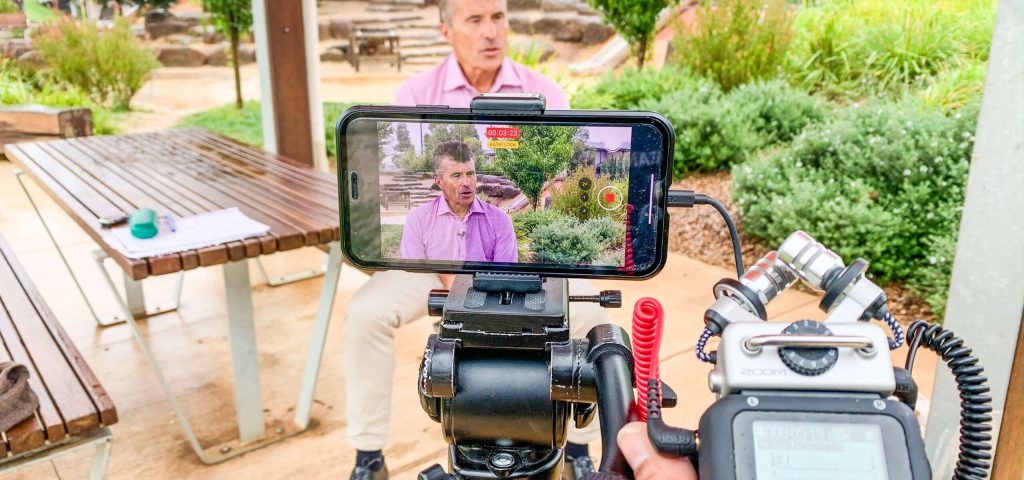 Most smartphones released in the last few years have excellent video capabilities. However, if your business is not supplying phones to all employees it can be hard to ensure they have a phone that is up to date.
Buying a dedicated camera or phone that employees can use when they need to create video removes any barriers to your team creating more content to market your business.
If your style of videos are mostly webinars or thought leader then a simple logitec webcam may be all you need for a camera;  your budget can be used for lighting and Audio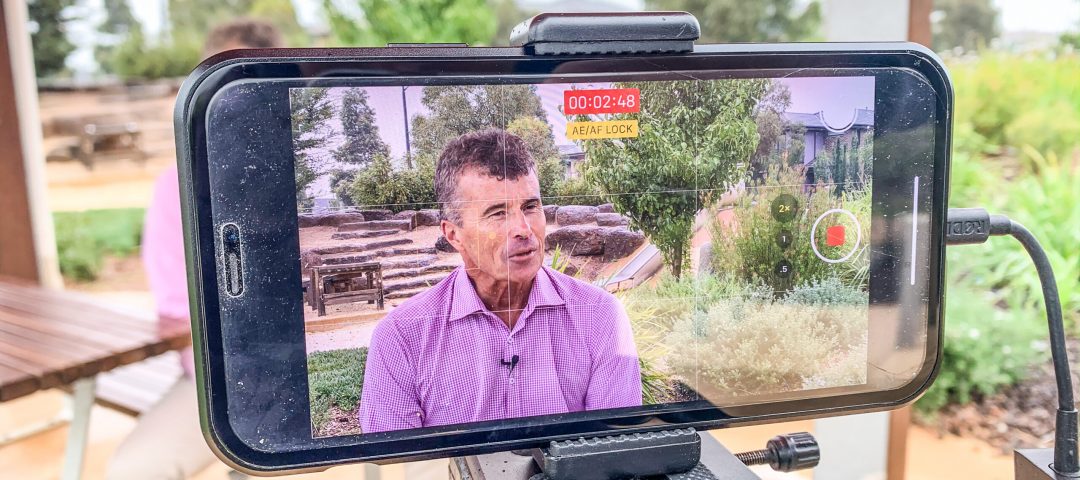 Some cameras worth looking into if you have the budget:
 iPhone 12, Pro or Pro Max Approx. $1199 – $1849 AUD
Ideal all round camera, this can be used for corporate interviews using tripods to amazing property shots using a gimbal or even quick vlog/social style videos hand held. Added benefit is that you can edit and upload to socials on the phone, or if it needs to be sent of for professional editing, you can upload and email very very easily compared to other camera options.
Purchase from Apple
Sony ZV-1 Approx. $1099 AUD
This camera is easy enough to use and amazing quality for doing regular interviews. If you have lots of client testimonials, how to videos etc and see value in having more quality video this camera is highly recommended. Using this camera with a gimbal is not recommended if you are a novice user (life will be much easier with a iPhone with a Gimbal or Osmo Pocket Gimbal). 
Purchase from JB HI-FI
DJI Osmo Pocket Gimbal Aprox. $599 AUD
Ideal for those in property, tourism, hospitality or similar who need to showcase what they do. This camera won't be great for doing corporate interviews with your CEO of a Law firm; but ideal for a realestate agent to showcase properties (with not many interviews) or hip restaurants to showcase their menus and venues.
Purchase from JB Hi-Fi
When recording interviews of customers or of anyone speaking on camera, quality audio will greatly improve the quality of your videos.
Shot Gun Mic (easiest to use for almost anything)
A simple way to step up audio quality is to use a "Shot Gun Mic" that plugs into your camera and sits on top of it. This is best for "vlog" style videos, where you are always on the move and filming casual interviews or similar. Remeber if you are using the Sony ZV-1, the onboard mic is of great quality,
Rode VideoMic or Me-L  Approx. $79 AUD
Made for use on phones and tablets, Me-l vision made specifically for use with a iPhone or iPad 
Purchase from DigiDirect 
Rode VideoMic Pro+ Approx. $349AUD
Ideal for use with regular DSLR, Mirrorless or Similar camera
Purchase from JB Hi-Fi
Lapel/Lavalier Mic (for interviews)
Having a lapel mic (Wireless lapel if you have budget) makes it simple to setup and capture quality interviews wherever you are. This is best if you are regularly interviewing clients or colleagues off camera; also this is easiest when you only need to use one mic as it should plug directly into most cameras.
Rode SmartLav Approx. $77 AUD
Ideal if you don't mind having a cable that runs back to the camera.
Purchase from JB Hi-Fi
Rode Wireless Go 
Ideal if you you need a wireless solutions (especially when working with clients and when you are on the move.
Purchase from DigiDirect
*NOT A MIC* Rode SC6-L  Approx. $89 AUD
This interface is used for capturing 2 mics on IOS devices such as 2 lapels when recoding an interview with 2 guests.
Purchase from DigiDirect
Podcast style Mics (for really awesome audio)
If your videos are in somewhat of a "podcast" or "webinar" style, filmed from the same place (office or studio setup), you value superb audio quality and don't mind having huge mics on camera, then you may want to consider some mics that are designed for capturing high quality spoken audio. There are some "Condenser Mics" (USB Powered) that are great if you are in a quite place and only are capturing one person on camera (webinars), however in true podcast style if you are filming 2 or more people speaking (like on radio) you want what's known as "Dynamic Mics".
Blue Yeti USB Microphone Approx. $188 AUD
Great for capturing one person doing a webinar or live podcast in a relatively quite and "non echoing" room
Purchase from JB Hi-Fi
Rode PodMic (4 people podcast kit) Approx. $1899
Great for capturing podcast or similar videos.
Purchase from DJ City 
If you have multiple mics to be recorded (and your not using the iPhone with the Rode Sc6-L and related lapels), you will need to to us an external audio recorder or audio interface (depending on if you are recording on go with a camera or filming webinars/podcast using a computer) to help with capturing multiple sources of audio. Speak to the team at your local store for help or get in touch with our team.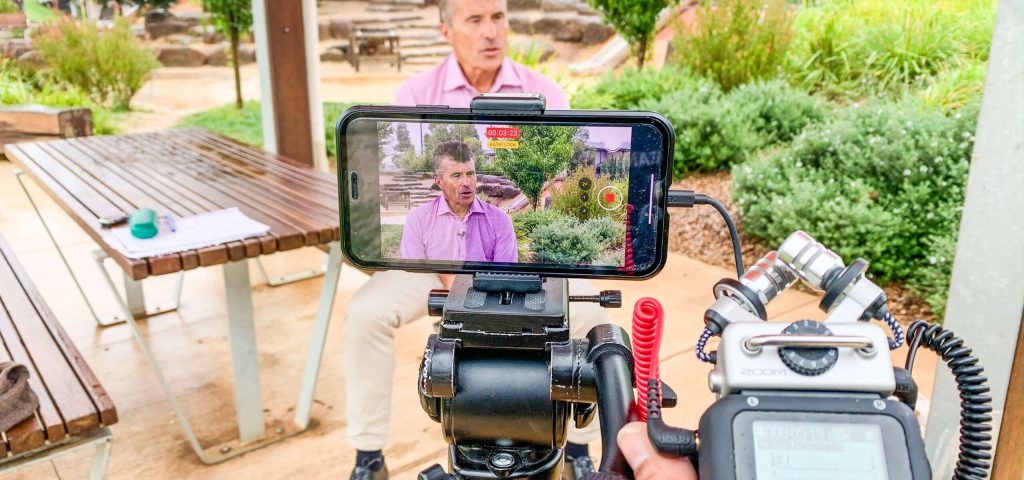 Having a good camera tripod or gimbal will allow you to keep your camera steady for interviews and smooth when capturing moving shots.
Tripods
Upgrading from things like propping up your phone/camera against a corner or having a colleague hold the camera for you will make life much easier when you start using a tripod.
Some tripod options worth considering
Smart Phone Flexi Tripod Approx. $8 AUD 
Ideal if you are filming using a phone or light weight camera on a desk or similar.


Purchase from Kmart

 
 Any Regular tripod Approx $50-100 AUD
Ideal if you won't ever need to do tripod movements and the camera is staying still (interviews)
Purchase from JB Hi-Fi
Any Fluid Head Tripod Approx. $ 100-200 AUD
Ideal if you need to capture smoothing panning and tilting shots on the tripod (Creative corporate video).
Purchase from Protog
Gimbals
If your industry (property development, realestate or similar) benefits from showing moving shots it might be worth investing into an easy to use gimbal.
Easiest gimbals to use for a non expert are:
If you get into the technical world of video and photography, you'll soon realise that all of it is actually in a way painting with light…. No light you you have a black screen and when you start using light it can look pleasing or as horrible as a "deer in the headlights" look. Great lighting will always improve you videos, whether it's an interview with your staff or capturing a good shot of your product. 
**Important notes about lighting**
The sun is our largest source of light, never try to compete with it, always leverage it. Best ways to leverage it is to use the sunlight that comes in through windows, skylights etc. to light your interviews and best ways to avoid competing with it, is to not filming an interview and using the sunset as your background while you are using tiny LED lights to try light the interviewees face.
Light Worth Checking Out
If you are filming in your office or find yourself in places with not enough light, then you may want to look at some of these options to help out.
Influencer Ring Light Approx $79 AUD
This light by no means is a professional lighting tool, however if the content you are making is mainly for socials and mostly of you speaking on camera from your office/cubicle, this light is all you need!
Purchase from JB Hi-Fi
LEDGO LUXPAD E268C Soft LED (or similar) Aprox $239 AUD
If you are mostly indoors and in offices, homes etc and you are filming interviews  or similar, this light will be more than what you need in most cases.
Purchase from JB Hi-Fi
If you are considering building yourself a studio or find yourself doing something more unique than whats been mentioned. Speak to the guys at Protog or any camera store and they will point you in the right direction… of course we're always here too!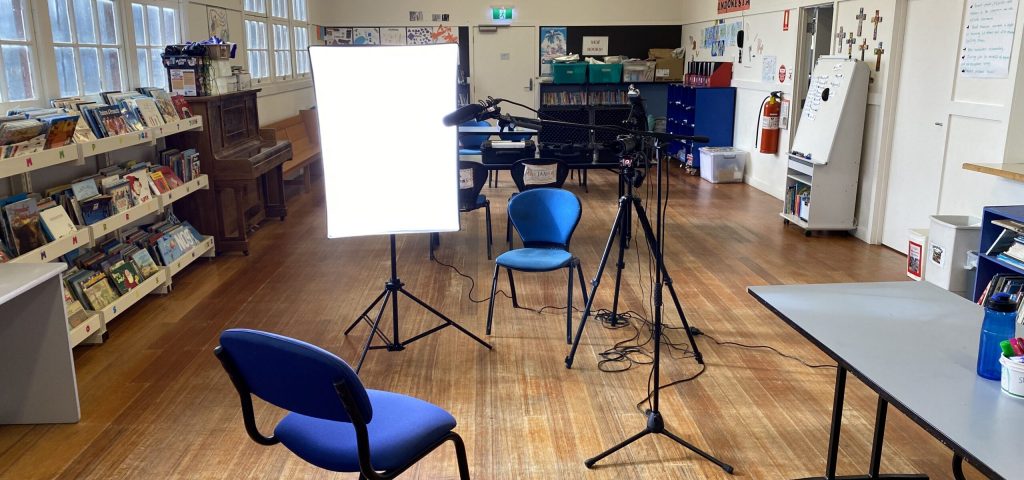 Planning your Filming
Once you have identified the video you are going to create, it is important to make a plan for your production. This will include the messaging, shots, people to be featured and a timeline for the production day. Here are some tips to ensure your filming flows smoothly.
Set up and conduct interviews first:

This is generally the most time consuming area of filming. This will also allow you to capture shots relevant to your interviewees response. 

Double-check audio before recording:

The last thing you will want is to get back at the end of your production and realise you have no audio. If you can't have someone watching your recording device, double check right before hitting record on the camera. 

Make the most of natural lighting:

If you can utilise natural lighting in your shots then do it! Not only does natural light look amazing, it will save you time setting up and packing down your lighting equipment.

Don't forget B-roll: B-Roll footage also known as overlay footage is all the the snippets of video that you can include to support what the interview is talking about and to overall enhance the visuals, tone and mood of the video. Planning these shots in advance (known as a shot list) will make life much easier on the filming day. In general showcasing the business facilities, anything that relates to the topic being discussed and showcasing the people from the interviews in there natural environment will always help.

PS: When filming remember to get at least 5-10 seconds of each shot. So if someone is on the computer typing get 5-10 secs of them just using their keyboard, 5-10 secs more of them using the mouse, and one more of their whole body/upper body at the computer.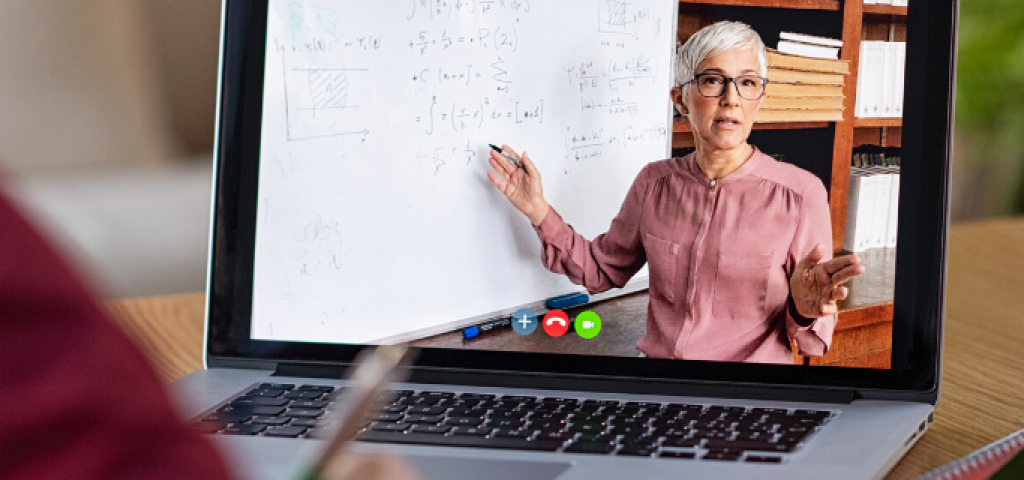 For further help planning your video or using the production equipment in this blog, get in touch with our team.
You can also check out our Shoot-it-yourself video service, that marketers are using to enhance footage they captured themselves.